In 1997, when Carolyn Jolly and Richard Quackenbush first took a look at the 35 acres that would eventually become Hidden Pond Stables, they saw more than the massive barns and vast network of pre-existing trails. They saw a bright future filled with bustling horse shows, healthy ponies, and happy riders. Today, the husband-and-wife team welcomes students to their bucolic plot of land for horsemanship lessons and riding instructions in both the English and Western disciplines. Hidden Pond Stables is proud to be going into our eighth year of hosting our own English and Western show series. The facility is home to 80+ horses, two lit sand arenas, a grass hunt course, a half mile exercise track, two round pens, a cross country jump course, as well as trails on and adjacent to the property.
---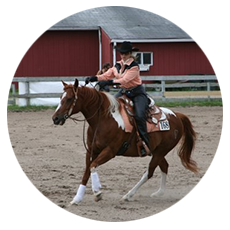 Just the good ol' boys, never meanin' no harm. Beats all you've ever saw, been in trouble with the law since the day they was born. Straight'nin' the curve, flat'nin' the hills. Someday the mountain might get 'em, but the law never will. Makin' their way, the only way they know how, that's just a little bit more than the law will allow.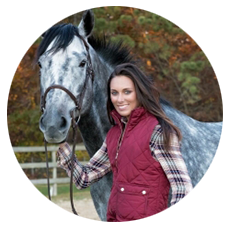 Teal Pedersen, Head Trainer

Teal grew up in the equine world under the guidance of her mother Jennifer Pedersen, a successful trainer in the Thoroughbred industry. Learning to ride at a very young age, Teal began competing with the hunter/jumpers on the "A" rated circuit and interning with successful hunter/jumper trainers very early on in her career.
Subsequently following a successful junior career, Teal ventured to Morrisville State College to compete on the Intercollegiate team. During her first year of college she was awarded Athlete of the week 3 consecutive times, Regional Champion, and Reserve Champion at Zones. She then advanced to Nationals where she placed 4th in Intermediate over fences. Following her college successes Teal went on to work at Stonebridge farm; a Thoroughbred breeding and sales facility in Saratoga, NY. Building her experience working with broodmares, foals and yearling sales prep.
In 2011, following a bad car accident Teal returned home where she began working at Hidden Pond Stables. Although a part of the Hidden Pond Stables family since 2002, Teal started her teaching career in 2012. Here she started working under Julia Brooks, where she soon learned the ropes of teaching young students the fundamentals of riding. Following the passing of Julia Brooks in 2014, Teal took over as Head Trainer of Hidden Pond Stables. Accomplishing her college goals, she received her Associates in Business Management. Teal currently serves as the Hidden Pond Stables Facility Manager, Head Trainer, and IEA Coach.